Once again, I'm sneaking my modern block for the modern blocks quilt along right under the wire as the month ends.  Months ago when I made Anderson's quilt, I had no idea how much elephant fabric I would need, so I have tons of it left over. That's ok though because I still think it's a ridiculously cute fabric.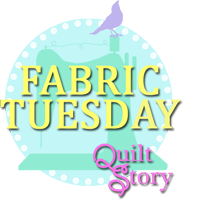 That was the cute quilt block. In other sadder (and madder) news, I now have a huge series of scratches on the side of my front bumper. When I opened the garage door to leave for class tonight, I discovered that I was partially parked in by a gigantic truck. Grrr…this isn't the first time that I've been in a hurry to get somewhere and someone has parked me in. I thought that maybe I could edge myself past him, but as I cut the wheel sharp, I managed to scuff my bumper on the stack of concrete blocks that are destined for the walkway. Have I mentioned that the walkway has seriously become the absolute bane of my existence? Yeah, I think I have,
here
,
here
, and
here
.
Anyway, I then stalked down the alley trying to find the guy who owned the truck, but I didn't see anyone. I came back to my garage and wrote this angry note filled with passive aggressive angst.
Then, I decided it was too mean and wrote another note that just said, "Do not park in front of this garage. It is used everyday." I took satisfaction in not adding please. Take that you jerk. The truck owner finally appeared and moved his truck. And, I'm still trying to remind myself that a car is just a thing, and that I'm fortunate to have a nice working car. Still, it's a thing with less than 20,000 miles, so I'm not going to lie and say that I'm not still super annoyed.
Anyway, enough about my woes. I've got to wrap this up. Tomorrow is my uber long pre-op workup for the lasik surgery that I'm getting in mid August. I'm a huge fan of watching medical procedures on TV and super squeamish about them being done to me, so we'll see how this surgery goes down. Tomorrow during the pre-op, I plan to bargain for a Valium tablet to take the morning of surgery as a preventative measure against me freaking out. That plan worked for my wisdom teeth extraction.